Breastfeeding, 2017
Breastfeeding can benefit child health and development and maternal well-being. Breastfed infants have lower risk of mortality, type 2 diabetes, and asthma than infants who are not breastfed. Breastfeeding can decrease mothers' risks of ovarian and breast cancers, and help prevent postpartum depression. Not all mothers have equal access to breastfeeding supports, and structural racism can impede access to health care and breastfeeding information across racial and ethnic groups. The table below presents data disaggregated by race and ethnicity to help us identify inequities and work toward solutions that promote equity. Due to data limitations, data on this indicator cannot be disaggregated at the state level.
Home Visiting as Part of the Solution. Home visiting actively promotes breastfeeding, supporting mothers directly and connecting them to other services to encourage initiation of and sustained breastfeeding over time.
Breastfeeding by State, 2017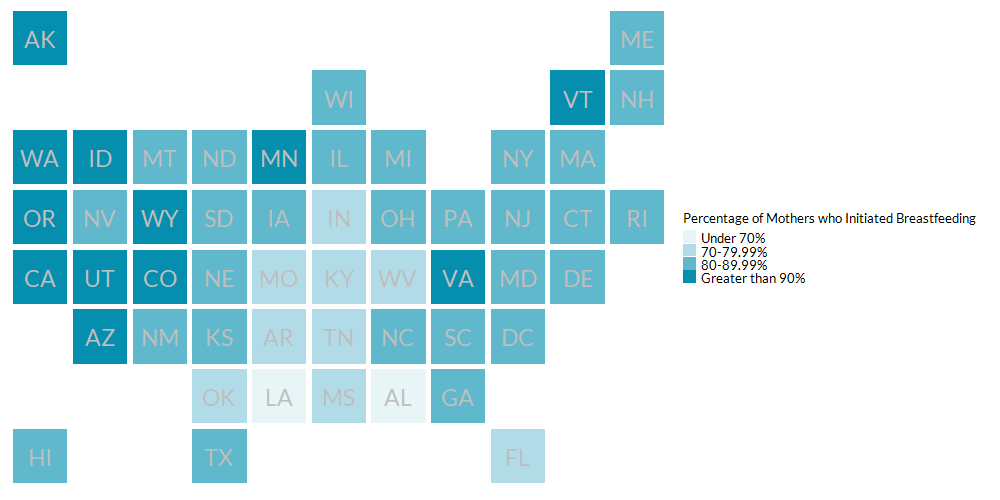 Download CSV
| | | | | | | | | |
| --- | --- | --- | --- | --- | --- | --- | --- | --- |
| State | All Groups | American Indian Alaska Native | Asian | Black or African American | Native Hawaiian Pacific Islander | Hispanic | Multiple Races | White |
Definition: Breastfeeding refers to the percentage of infants born in 2017 who were ever breastfed or fed breast milk. The Centers for Disease Control and Prevention caution against comparing state estimates for breastfeeding rates for infants born in 2017 to those for infants born in 2016 because of a change in the survey sampling frame. Disaggregated breastfeeding data by race and ethnicity were not available at the state level. We include overall breastfeeding rates by state, and the national overall and disaggregated rates.
Sources: U.S. Department of Health and Human Services, Centers for Disease Control and Prevention, National Center for Health Statistics. (2020). National Immunization Survey, breastfeeding rates by state and sociodemographics. https://www.cdc.gov/breastfeeding/data/nis_data/results.html