Summary
How Home Visiting Models Define Virtual Home Visits
August 3, 2021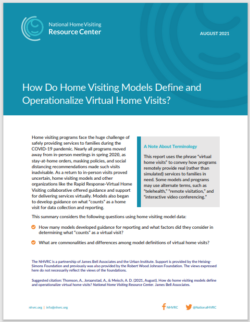 Home visiting experienced a significant challenge in 2020, when the COVID-19 pandemic forced programs to switch from in-person sessions to virtual visits with little notice. Home visiting models and organizations like the Rapid Response-Virtual Home Visiting collaborative consulted with programs on how to make this shift during the early days of the nationwide shutdowns. As the pandemic continued, models also began developing guidelines on how do define virtual home visits for data collection and reporting.
The future role of virtual home visiting is unknown. Programs may elect to keep a virtual visit option for families in remote locations or who are otherwise difficult to reach in person. The field can also inform programs and policymakers seeking to refine definitions and best practices in virtual service delivery. To this end, NHVRC asked 25 home visiting models how they define virtual home visits. We then used content and thematic analyses to code the documentation received from 20 models with a focus on the following questions:
How many models developed guidance for reporting and what factors did they consider in determining what "counts" as a virtual visit?

What are commonalities and differences among model definitions of virtual home visits?
We found that models typically specified the type of technology used, activities that needed to be completed, or a combination of both for an interaction to count as a virtual home visit. Read the one-page summary of findings in How Do Home Visiting Models Define and Operationalize Virtual Home Visits? [PDF] 
Note: This summary uses the phrase "virtual home visits" to convey how programs remotely provide real, rather than simulated, services to families in need. Some models and programs may use alternate terms, such as "telehealth," "remote visitation," and "interactive video conferencing."
Suggested citation: Thomson, A., Joraanstad, A., & Meisch, A. D. (2021 August). How do home visiting models define and operationalize virtual home visits? National Home Visiting Resource Center. James Bell Associates.