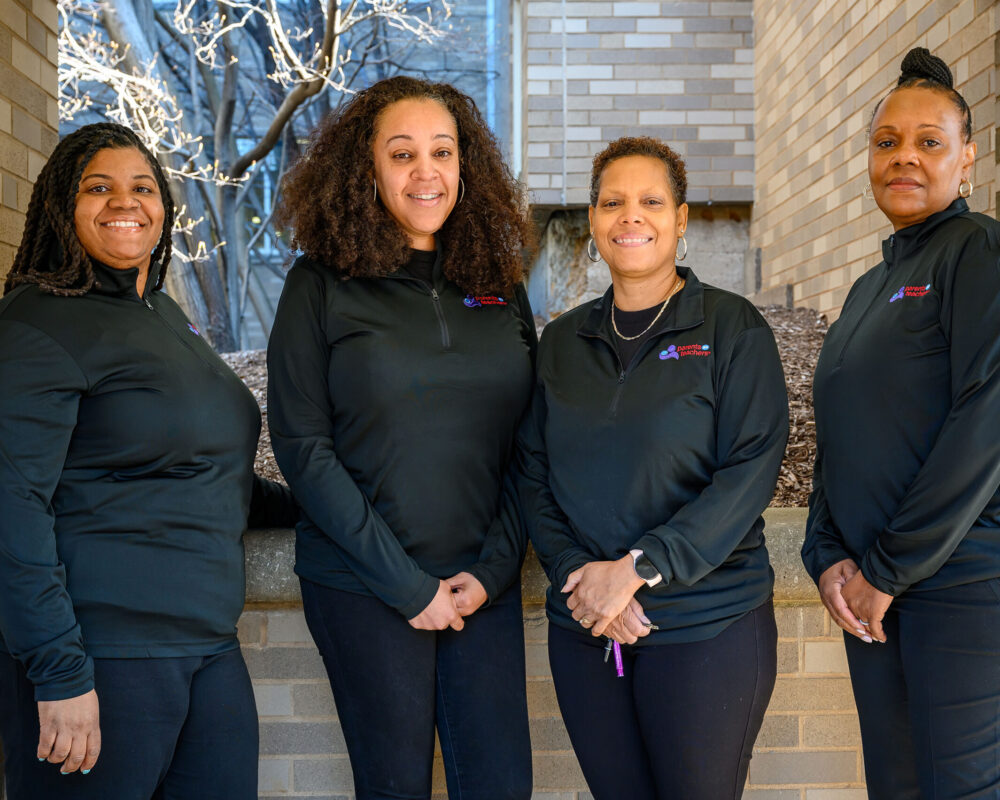 There are significant racial and ethnic disparities in maternal health and birth outcomes among communities of color. Specifically, pregnant Black women in the United States have disproportionately high maternal mortality rates. Black women over the age of 30 are 3 to 4 times more likely to die from pregnancy-related complications than similarly aged White women, regardless of educational background. Black infants are more than twice as likely to die within the first year of life as White infants (Center for Health Care Strategies, 2021; Centers for Disease Control and Prevention, 2023; Kaiser Family Foundation, 2022). Several social and health factors contribute to these gaps, including Black families' lack of access to quality health care, differential experiences in medical care settings, underlying medical conditions, and the cumulative impact of stress related to structural racism and implicit bias (Centers for Disease Control and Prevention, 2023).
Home visiting programs can play an important role alleviating maternal and child health disparities by providing mothers with culturally informed support before, during, and after childbirth; and delivering individualized services based on families' unique circumstances. To help home visiting staff better support families, programs should offer anti-racism and implicit bias training (Center for Health Care Strategies, 2021; Kaiser Family Foundation, 2022).
Show Me Strong Families, a Parents as Teachers (PAT) affiliate in St. Louis, Missouri, has implemented strategies to help address maternal health among families of color and reduce their barriers to positive health outcomes. As part of its comprehensive services, Show Me Strong Families has four certified doulas who specialize in working with Black expectant families. We spoke with one of the founding doulas, Donna Givens, who has provided doula services since 2006, and currently manages community partnerships for PAT. Below is our conversation about the impact of PAT doulas in supporting Black maternal health in pregnancy, delivery, and postpartum.
A doula is a trained professional who provides regular physical, emotional, and informational support to pregnant people before, during, and after childbirth. They are advocates who help families have a healthy, safe, and positive experience throughout the process (DONA International, 2023).
NHVRC: Could you tell us how the doula program started at Show Me Strong Families?
Givens: After watching the documentary Death By Delivery, which showed the issues Black women face in the health care system, I was motivated to ask our leadership if we could incorporate doula services into our program. Throughout my work, I continued to hear moms tell stories about their voices not being heard when they go to their doctor visits. They feel like they are not respected. And I knew we could help. . . We could be that circle of support for them as part of our home visiting services. The leadership was very supportive and worked with all of us to start providing these services.
NHVRC: What do your doula services look like?
Givens: We currently have four doulas who serve families in our PAT program. For all families, a parent educator lets the families know about the [doula] services. When a mom wants a doula, we give them a doula. One doula may serve between five to six moms at one time. Families receive nutritional support, childbirth classes, and education on newborn care, safe sleep practices, and the benefits of breastfeeding. We work with a lot of partners to help deliver services, like hospitals, diaper banks, food banks, and FLOURISH. After mom delivers, we offer peer support groups. . . called "This Is My Village" and "This Is Our New Beginning." Parents lead these groups, and they support each other in many ways. They share clothes that their kids outgrow. They encourage each other to keep going through all the stress. They also develop relationships outside of the group meetings.
Every year we have a dinner called "This Is My Birthing Story." All moms that have been supported by a Show Me Strong Families doula come together to tell why it was important to have a doula and share their birthing experience. This dinner is full of laughter and tears with families saying thank you for being a part of my birthing story.
We also have a first birthday party for all kids to celebrate them turning 1 year old. Too many babies are dying before their first birthday. Some St. Louis neighborhoods have rates three times the national average. Black babies are three times more likely to die [than White infants], and the gap is widening.
NHVRC: What supports do doulas receive to help them serve families?
Givens: All of our doulas are full-spectrum doulas who have been trained and certified. We meet once a month to talk about the different births we are a part of. We share challenges and ways to support each other. We also attend professional development trainings through Doula Trainings International.
NHVRC: What factors have contributed to the challenges that mothers experience and the disparities you mentioned earlier?
Givens: The stories I hear are the same. Nothing has changed. The numbers of Black moms having problems are higher. . . They don't have transportation and need it to get to doctor visits for prenatal check-ups. And they need good health care, but doctors are not respecting and listening to moms about their pain or concerns. They are being dismissed. [Black families] also need transportation to support employment. Our public transportation has changed routes, so it's been hard for families to get on the bus. Moms must take their children to child care and then try to get to work on time. It's truly a problem for our families. And it's Black moms that are most affected. It's color. It's race.
NHVRC: What are some of the mothers' strengths and successes?
Givens: They are eager to move on, to work, and do what they need to do to find permanent housing. They will use any resource they are given and share it with other moms. They are very open to receiving help while trying to get a solid foundation for their kids. They want a better life. They are also not ashamed to tell their story and encourage other moms not to give up. Most of them have struggled all their lives to get to where they are now. It's important to know that they are not the only one.
NHVRC: What advice would you give to other doulas or home visitors working with Black families?
Givens: Home visiting programs should incorporate doulas and find partnerships to help serve families. It's crucial. Wraparound services for those families to support them before, during, and after childbirth is needed. We need to figure out a way for insurance to help pay for [doula] services, no matter [recipients'] education or income level. And we need to be able to just be there to listen and respect them. We are there to help mom advocate for herself. You have to have a passion for what you do. You have to meet people where they are.
NHVRC: Do you have any concluding thoughts to add to the larger conversation about Black maternal health and mortality?
Givens: About 10 percent of the doulas in the nation are Black. We need more. It's important because Black women want to be supported by Black doulas, and it's important for us to be there to support and hold space with those women. We know that women with additional support may be less likely to get an [unwanted or unnecessary] [Cesarean] section, get an epidural, or take pain medication . . . There are so many benefits. We can help provide better birthing outcomes for these women. It makes a difference.
For more information, visit Parents as Teachers and Show Me Strong Families.
References
Centers for Disease Control and Prevention (2023, April 3). Working together to reduce black maternal mortality. https://www.cdc.gov/healthequity/features/maternal-mortality/index.html
DONA International (2023). What is a doula? https://www.dona.org/
Hill, L., Artiga, S., & Ranji, U. (2022). Racial disparities in maternal and infant health: Current status and efforts to address them. Kaiser Family Foundation. https://www.kff.org/racial-equity-and-health-policy/issue-brief/racial-disparities-in-maternal-and-infant-health-current-status-and-efforts-to-address-them/
Lewy, D. & Casau, A. (2021, October). Addressing racial and ethnic disparities in maternal and child health through home visiting programs. Center for Health Care Strategies. https://www.chcs.org/resource/addressing-racial-and-ethnic-disparities-in-maternal-and-child-health-through-home-visiting-programs/