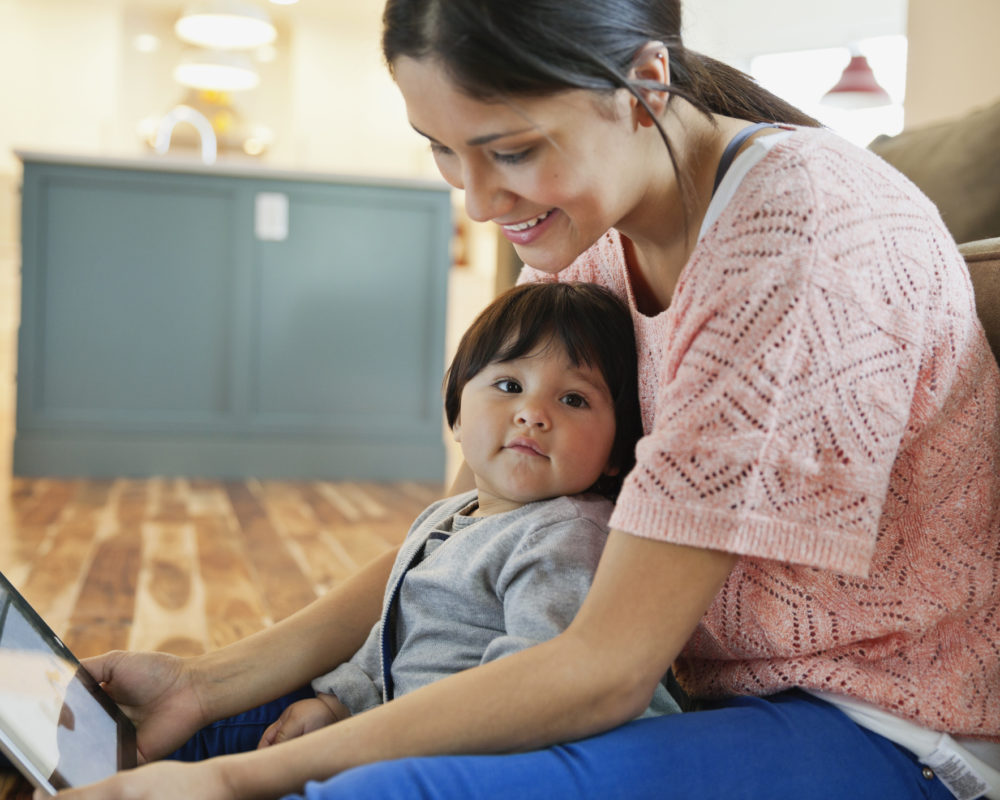 Home visiting programs are increasingly using technology to enhance and improve services for children and families. Technology can help home visiting programs reduce geographic barriers to service delivery and professional growth, along with issues related to transportation, scheduling, and family engagement preferences. For our latest issue brief, we talked with several individuals leading efforts that use virtual tools to overcome these barriers.
One such effort is Parentivity, a web-based platform that provides research-based information to parents and caregivers of children up to age 5. Parentivity emerged from a public-private partnership between the Iowa Department of Public Health and Quality Assist, an early childhood education company based in Atlanta. The platform offers virtual home visiting services to all Iowa residents, particularly families who may not qualify for traditional in-home visits. Users create personalized dashboards featuring content curated to increase their knowledge of child safety and development, strengthen family resilience and resourcefulness, and improve children's school readiness.
Parentivity can be accessed any time on a phone, tablet, laptop, or desktop. The system provides individualized content in four categories: pregnancy, parenting, children, and family. Subcategories include—
Breastfeeding
Nutrition
Developmental milestones
Relationships
Fatherhood
Physical, social, and emotional health
Topics and key concepts are presented in a variety of formats, including learning activities, videos, games, quizzes, live chats, and podcasts. For example, a mother who is 20 weeks pregnant and preparing for her baby's arrival may receive an animated game illustrating items in a room that do not reflect a safe sleep environment. Once she gives birth, her dashboard content transitions to postnatal needs, such as breastfeeding and developmental milestones.
Users can share child dashboards with family members and service providers, enabling each of them to enter their own information and view a child's developmental progress. To reward participation, Parentivity awards and tracks points displayed on a leader board. Incentives, including car seats, cribs, diapers, coupon codes, and vouchers, are also offered depending on local community resources.
Parentivity offers several benefits to caregivers and home visiting programs:
Provides parenting support, education, and resources to low-risk caregivers who are not eligible for in-person home visits
Addresses common transportation, scheduling, and geographical barriers to service
Offers access to information 24 hours a day, 7 days week
Serves as a programmatic resource for creating service plans and identifying topic areas to discuss with families
Provides aggregate data on site usage based on user zip codes
While Parentivity emerged from the home visiting field, it can be adapted for other domains, such as education, child welfare, and business. Other states have expressed interest in integrating Parentivity to support initiatives that monitor risk factors, reduce infant mortality, promote dental health, encourage safe sleep, and more.
Learn more on the Parentivity website, or email Kim DeMars (kdemars@parentivity.org) at Quality Assist or Janet Horras (janet.horras@idph.iowa.gov) at the Iowa Department of Public Health.
Read "Technology in Home Visiting: Overcoming Service Barriers Using Virtual Tools."